Consignment shopping is one of the best things that picky parents can do to save a little dough without sacrificing standards. In fact, buying used clothing alone can save consumers $1.6 billion per year collectively, and with so much second-hand splendor to behold, there's usually little compromise required.
Oh, and did we mention the obvious reason to go used? Kids grow. This means that it often doesn't make a whole bunch of sense to shell out thousands on brand-new clothes simply because they're brand-new. You can get like-new for less when you only expect them to be able to use it or wear it for a month or two.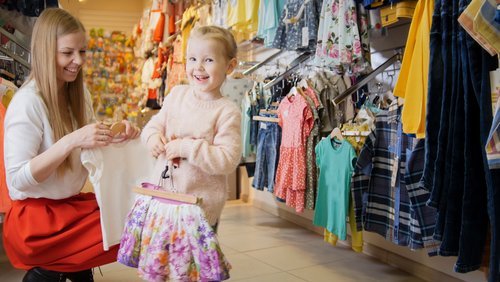 Not only that, but there's a thrill factor to scouring online consignment shops, antique stores and flea markets. If you're already a certified member of the consignment club, then you know the rush and excitement of finding that perfect (and perfectly priced) piece after months of searching. If you're new, we're here to help you experience it for yourself with this helpful consignment shopping guide! All of the following tips can be applied to clothing, toys, gear and more.
Tips for Buying Used Children's Clothes, Toys and More
It just so happens that we're experts when it comes to consignment kids' clothing, so we're a fantastic resource for anyone looking to ramp up their little one's wardrobe for less. But these tips can help you nail all kinds of consignment shopping for kids, whether you're looking for used sports equipment, used toys or used designer clothes. There are a few important tips you should know when buying second-hand kids' gear:
Know What You Want…Sometimes—It helps if you go into your search having a good idea of what you want to purchase. The auction and used online markets tend to be oversaturated, so if you know specific brands and collections, you'll have better luck finding the perfect style for less. This is especially important for special occasion outfits or more expensive toys and gear.
Be Open-Minded—While specificity is important sometimes, when you're not looking for something specific, you'll discover new and exciting items that you'd never have considered for your little one. If you're somewhere in the middle between "I know exactly what I want" and "I have no idea what I want," then you can't go wrong when you shop at stores like Bagsy, where you're getting curated consignment children's clothes that have been selected by our team.
Shop By Brand—An important part about second-hand shopping with specificity is knowing the top children's brands. When you have a little bit more wiggle room in your budget (i.e., when you're buying used instead of brand-new), you'll be surprised to find that some of the higher-end brands are suddenly within your spending comfort zone. This strategy allows you to buy higher quality goods for less.
Double-Down on Discounts—We know you're a savvy shopper, so you probably already know some of the tricks of online shopping. Make sure that you search for coupons and take advantage of sales—this can take some low prices down even further, which means you can get more for less. Follow your favorite consignment shops on social media so you're always in on the sales and deals.
Know Where to Shop—Some consignment kids' shops are better than others. Look for those that professionally choose and market items themselves rather than marketplaces that allow anyone to sell whatever they want. Look for stores like Bagsy that are highly rated, focused on quality brands and that accept used clothing that you can resell when you're done with them.
Bookmark the Best—Treat online consignment shopping like you would your favorite brick-and-mortar stores. Stop in often just to see what's in stock. Naturally, each shop's selection will change regularly based on what comes in, so you'll want to revisit on a regular basis to see if something comes up that might suit your shopping goals at that particular moment.
Buy a Size or Two Up—Did we mention that kids grow? Unfortunately, they won't be able to wear that oh-so-adorable smocked dress forever! But in the consignment world, you've got to grab it if you see it or else it could be gone in a flash! Make sure to grab it even if it's a size or two too big at the moment.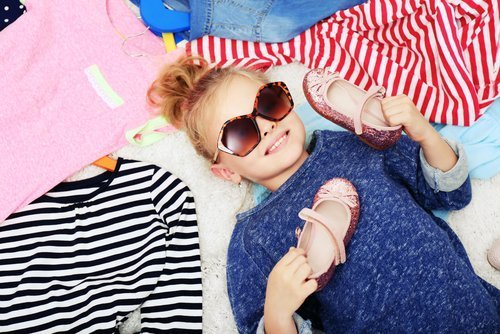 Getting the Most Out of Every Dollar
At the end of the day, shopping second-hand is a great way to ensure that you get higher quality at a lower spend. Whether you go the consignment route for everyday staples or more expensive items, like dressy clothes and sports equipment, you'll find that your budget feels a whole lot bigger than it would if you bought retail. The result is a well-outfitted child and happy parents without strained budgets!